Videos with Barret Blade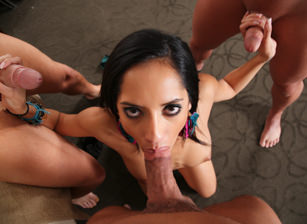 Description :
Chloe gets a call for room service for her favorite band The Horny Toads! Instead of sending the usual masseuse Chloe has an idea! She's going to give the massage herself! Any chance to see The Horny Toads is the chance of a lifetime! As the massage progresses Chloe lets her novice hands run wild. Clover gets a bit tired of the sham massage and calls Chloe out on it. Sly as she is, she talks her way into relaxing him in another way. Just when you thought you got just what you were expecting, Clover's bandmates come to join in on the fun. Celebrity sex tapes are a weekly occurrence with The Horny Toads. Watch them take advantage of their biggest fan yet! Chloe gets more than she bargained for, a starring role and 3 giant cumshots. Who could leave without a smile on their face after The Horny Toads finish with them?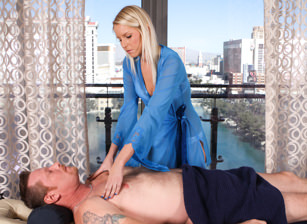 Description :
It's a bachelor party and Vanessa Cage is the special surprise, unbeknownst to her. She's adamant that shes not a hooker when the grooms best man asks for a little extra something for the three of them during the massage and semi-reluctantly Vanessa agrees as long as no one finds out. This is the video that resulted from their antics. Vanessa is a sexy blonde with amazing breasts. Anyone she put her hands on for a deep tissue massage would surely get aroused, knowing such a beauty was touching them. But when Vanessa reaches up and touches the grooms cock, he jumps off the table, afraid his fiance is going to flip. He may be out but his friend knows where it's at. Vanessa is nervous her handjob skills may not be as good as a real working girls but she couldn't be more wrong. Her mouth is perfect as it glides up and down the grooms buddies dongs. Vanessa makes them promise the POV footage of her sucking cock won't wind up on the internet. But here it is! Watch as masseuse Vanessa sucks one dick hard as she strokes another off with her well oiled hands. She's so good that the groom decided to jump in so you can see Vanessa suck each guy off as she works the other two cocks with her hands. Her only request is that the guys don't get their cum in her eyes as they cover her with jizz.

Pictures with Barret Blade