Videos with Ryan McLane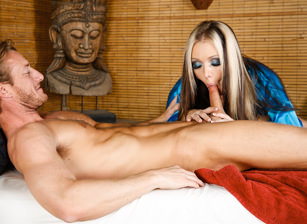 Description :
Jeanie Marie Sullivan is offering Ryan a full cabana spa massage for his 'first time,' to get a sense of what the spa has to offer. Jeanie makes Ryan feel right at home with her gentle pampering and soft voice. Her massage techniques are telling, as she guesses her has a stressful job. It's Jeanie's first day, and Ryan wants to make sure she's cut out for the job. Jeanie is clearly qualified and it doesn't take long before we see that she's excited about the last half of Ryan's treatment. As she stimulated Ryan's chest and abdomen muscles you can see her nearly drool over him. Before long Ryan's ready for the finale, and Jeanie resists the temptation to be too excited that her lust may show! She demands a further 200 dollars and after revealing her lacey lingerie, she sucks Ryan's cock into her warm mouth and doesn't let go until he's cum on her face! Watch out, Ryan's wife might be just around the corner!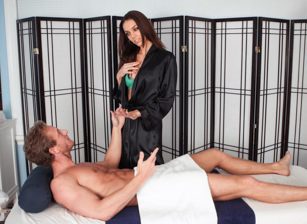 Description :
Tiffany Tyler and her long legs show up to massage Ryan McLane. He is relatively new to massage and finds himself in good hands with Tiffany. She knows exactly what to do to get her clients to relax and feel good. Tiffany is open and welcoming and loves to make her clients happy. She is so caring, she even warms up the oil before slathering it on Ryan's back. Tiffany can't help but compliment Ryan on his physique and you start to get a feel for where this massage is going. When her client gets frisky, Tiffany explains they don't typically do those naughty massages but she thinks her client is cute, so she slowly strips down until she's naked. Her body is amazing and her tits are super perky. Her pussy is shaved naked and her lips will make your mouth water. Tiffany gets things started by spitting on her clients cock to lube it up for a nice handjob. Once it's hard, she slowly wraps her lips around it as she starts to suck. She lets her pussy be licked for a bit until her client is ready to pop. Tiffany has that sex look in her eyes as she sucks him off, letting him cum on her mouth, lips, tongue and face.

Pictures with Ryan McLane