Videos with Maddy O'Reilly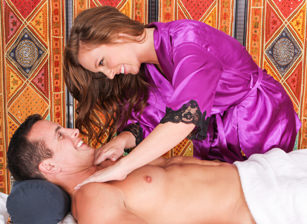 Description :
Maddy OReilly has been promising her trainer that she'd give him a massage for a number of months and today hes finally decided to take her up on it. Maddy has a total ulterior motive because she's wanted his cock every since she saw the size of it under his basketball shorts. Maddy begins his massage as she would any other, getting in deep to his muscle tissue but she can't resist the lure of his big dick for long. When she flips him over, she bravely reaches under his towel and strokes his thick dong hard. Maddy gets her trainer a pillow to make him comfortable for the deepthroat blowjob she is about to bestow on his throbbing rod. Lubing it up with her spit, she strokes him off, making him wait for her warm, wet mouth. Maddy has dreamed of this day for months, and she takes her time, making sure she enjoys every inch that he has to offer. See her rub her lips all over his balls as she travels up back to his tip, giving him full eye contact as she sucks. It's so much cock that Maddy chokes on it when she goes deep but she loves every minute of it until she swallows all his cum.
Categories :
Oil
,
Brunette
,
Body Massage
,
Blowjob
,
69
,
Cum in Mouth
,
Deepthroat
,
Natural Tits
,
Swallow
,
Ball Sucking
,
Ball Licking
,
Massage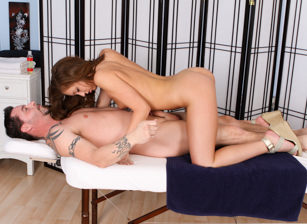 Description :
Jack Vegas is the pool guy and Maddy O'Reilly is falling behind in her bills. She offers to barter his services for her services in the massage parlor. Lucky her her, Jack's back's been bothering him so he agrees to come in for a massage to settle Maddy's bill. Maddy knows she's got to make this massage a good one. She works his muscles giving him the deep tissue service as she shamelessly flirts with him. Maddy has always wanted to fuck her pool guy and now she has the perfect chance to. As he is relaxing on the table, Maddy strips down naked to set the mood. She lubes up her own stomach and tits so that she can climb on top of him and surprise him with a body to body massage. Maddy rubs her tits up and down his back as her pussy gets wetter and wetter. She plays the boss, taking control of the situation and telling Jack just what to do. We bring you amazing close ups of Maddy's wet pussy from behind as she rides him. But Maddy really heats things up when she has him turn over, exposing his big cock. She can't wait to get her hands and mouth all over it, fulfilling her sexual fantasy. Maddy lets Jack eat her pussy for a bit 69 style before dropping to her knees so Jack can cum all over her face as she plays with his jizz. Needless to say, Jack wants to barter with Maddy every month after this session!
Categories :
Oil
,
Kissing
,
FaceSitting
,
Brunette
,
Skinny
,
Body Massage
,
Blowjob
,
69
,
Facial
,
Natural Tits
,
Massage

Pictures with Maddy O'Reilly