Videos with Chloe Amour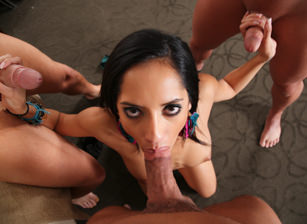 Description :
Chloe gets a call for room service for her favorite band The Horny Toads! Instead of sending the usual masseuse Chloe has an idea! She's going to give the massage herself! Any chance to see The Horny Toads is the chance of a lifetime! As the massage progresses Chloe lets her novice hands run wild. Clover gets a bit tired of the sham massage and calls Chloe out on it. Sly as she is, she talks her way into relaxing him in another way. Just when you thought you got just what you were expecting, Clover's bandmates come to join in on the fun. Celebrity sex tapes are a weekly occurrence with The Horny Toads. Watch them take advantage of their biggest fan yet! Chloe gets more than she bargained for, a starring role and 3 giant cumshots. Who could leave without a smile on their face after The Horny Toads finish with them?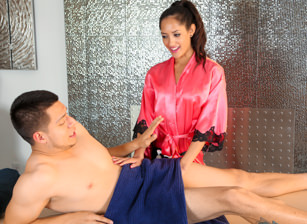 Description :
David has big plans for today! Aside from this massage, just to get the kinks out from playing soccer, he wants to take his soon to be fiance for dinner and dancing tonight. The success of his proposal to his girlfriend is going to hinge on whether Chloe can fix his sore leg muscles. Chloe Amour has even bigger plans for David's massage. This horny vixen is wild and keen on seducing David, and giving him something sexy to remember before he hooks up to his ball and chain.

Pictures with Chloe Amour